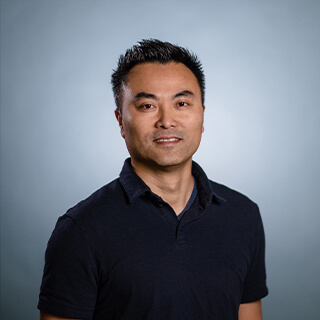 "I think it's great that I get to help other people realize their dreams."
As an Industrial Designer with a background in architectural design, my strengths include concept development, design research, graphic design and 3D visualization.
Years at SIGMADESIGN: 7
---
WHAT WAS YOUR YOUTH LIKE?
My parents emigrated from Vietnam when I was about 1 year old. My parents were fortunate to escape with their 5 children and make it to the United States to start their lives over. I am the youngest in our family, and I can't comprehend how difficult it must have been for them. I was told one of the first places we stayed at after arriving in the US was a church. Our family landed in Portland and we've stayed in this area ever since.
When I was young, I really enjoyed arts and crafts. I remember a lot of drawing with just pencil and paper. In middle school I started getting into arts of all sorts; I was in the T.A.G. program that took kids off-campus to explore all sorts of fun things. Looking back on it I realize this was my first step into the arts. I remember doing things like pottery, papier mâché, painting, and making masks.
In high school, I played sports year-round, from soccer to basketball to tennis. Most of my friends played the same sports and after school we would just go out and play some more!
WHAT WAS YOUR EDUCATION EXPERIENCE?
My passion for art led me to attend the University of Oregon to study Architecture. My focus was specifically on the field of Art and Architecture. While at U of O, I also joined some multicultural groups (APASU and VSA) which helped me open up a lot. I was a mostly shy and reserved kid and joining these groups played a big part in me becoming more confident in myself. There were lots of opportunities to try new things such as leadership positions and putting on cultural shows.
Following college, I moved to Seattle and worked at an architecture firm. After a couple of years, I decided to go back to school to thinking that I'd like to get into a master's program but then found out that the U of O had started a new program for product design. I was very intrigued and decided to redirect my design path towards products rather than places. Although it's not quite the same field, it doesn't stray too far off the path. I wanted to design things that people could use every day, and that would benefit their lives. That resonated with me. I have more opportunity to design objects that impact lives in valuable and meaningful ways.
WHAT DREW YOU TO THIS LINE OF WORK?
At the University of Oregon, I met Mark Schoening (he was the Director of Industrial Design at SIGMADESIGN from 2010-2019 before he retired). He taught a design course for a term and introduced the class to SIGMADESIGN. After finishing the program, I had the opportunity to join the SIGMADESIGN industrial design team. I really enjoy being able to contribute to product design on so many different project types. I've also been able to expand my skills and learn so much from the broader team of designers, engineers, technicians, and other experts working at Sigma.
I'm happy to be able to jump in and help anywhere my design skills are useful. At Sigma, I'm able to extend my skills for product design projects of all kinds – graphic design, GUI design, UX design, as well as signage and tradeshow displays.
MY INTERESTS OUTSIDE OF WORK
I have two awesome kids who are now 9 and 7. I love doing whatever it takes to raise them to be thoughtful, kind, and happy people. Nothing makes me happier than seeing them laugh and smile together.
I enjoy spending time with my wife. Our favorite dates are usually finding great places to eat and watching comedy shows. Our current favorite place to eat is a Korean BBQ place called Gyu-Kaku. Overall though my favorite type of food is sushi!
I probably enjoy playing basketball the most, but with age and injuries I'm doing a lot more watching than playing nowadays. My two fav sports to watch are the NFL (no specific team) and the NBA (Blazers!).
I also enjoy just simply hanging out with family and friends socializing or playing games (ping pong, poker, darts, shuffleboard, billiards, bowling, bocce…. just about any game). I enjoy competition and trying to get better at whatever game I'm playing.
HOW DO THE CORE VALUES AT SIGMADESIGN INFLUENCE YOUR WORK?
I love that Sigma has a clear set of core values. Our teams like to give our best to each and every project, but that doesn't mean we can't have fun while doing it. Take time to laugh is great. Work is a big part of our lives and I really enjoy the opportunities to also just be silly and or play games like ping pong, darts, or Dr. Mario. I value these things, and it's a great way to meet new people that I don't usually get to work with. It's one of the main reasons I like to try and host something each year through the Culture Club like a ping pong or cornhole tournament at the Summer Bash.
All of the core values ring true to me, but Integrity is also important to me. It means being true to yourself and always doing the right thing whether or not anyone is paying attention. It means attacking each project in the manner that you think it should best be handled and to not cut corners because no one is looking or because the budget isn't as much as another.
I believe being Adaptable is especially important in product design. There is always something new to learn with each and every project. I don't have all the answers from the get go. It's my job to gather as much information as possible, develop insights, and create solutions based on what I'm given or discover along the way. I always look for feedback on the concepts that I've proposed. As the designer I always try to keep an open mind and adapt my solution based off of that feedback.
MY FAVORITE THING ABOUT MY PROFESSION AT SIGMADESIGN
I get to work on so many different types of projects. I get to meet different people from different specializations and I get to collaborate with them. I think it's great that I get to help other people realize their dreams.
MY FAVORITE PROJECT TYPES AT SIGMADESIGN
I get to work on so many different types of projects. I get to meet different people from different specializations and I get to collaborate with them. I think it's great that I get to help other people realize their dreams by helping them envision what their ideas could look like.
WHAT IS YOUR DESIGN PHILOSOPHY?
My job is to translate all the important aspects of the project, and design a solution that is aesthetically pleasing, optimizes the value of the product to the client, manufacturer, and most importantly to the targeted end-user. At Sigma Design, I get to work with a lot of smart, creative, and talented people with so many different experiences. Developing well thought out products happens when we collaborate together as a team made up of different specialties.
I rarely design just one concept. With each and every project I try to offer a wide breadth of solutions that span the gamut from safe/expected to out-of-the box. I always strive to be open-minded and adaptable to new information, search for new insights, and be empathetic to the targeted end user or other experts effected by the solution I'm designing for. Sometimes the safe/expected solution works, but through a wider spectrum of concept exploration you usually get more discovery and unexpected "aha" moments that could move the direction of the solution on a clear, single path forward.