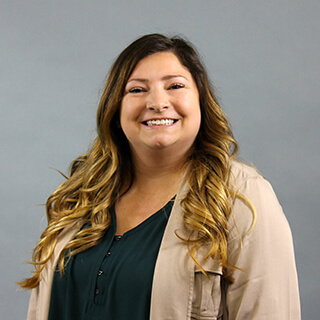 "I love anything that involves people getting out of Excel and into NetSuite. Most of the time when that happens there is an "ah-ha" moment where they realize how many new options are available to them for reporting, notifications, automation, and more! These kinds of process improvements are exciting to me."
As a NetSuite Administrator with a BS in Electrical Engineering, I am responsible for improving processes, managing different types of data, and documenting changes. I enjoy collaborating with my co-workers to provide excellent service to our clients and employees.
Years at SIGMADESIGN: 4
---
WHAT WAS YOUR YOUTH LIKE?
Both of my parents were in the military so when I was younger I moved around a lot. I was born in Maryland, lived there for a bit, and then lived in New Jersey for a couple of years before my mom retired from the Marines. Then we moved to Whidbey Island, in Puget Sound near Seattle, when I was in the 5th grade. Sports were huge in my family growing up and still are to this day. I played on many teams with my older sister and on some that were coached by my dad. I've played soccer, softball, track, and basketball, but my favorite sport has always been volleyball.
WHAT WAS YOUR EDUCATION EXPERIENCE?
I went to a few colleges. I started at Central Washington, then I moved to Pacific Lutheran University in Tacoma to live with my sister and try out for the volleyball team. Unfortunately, I didn't make the team, but they hired me to be the team manager, which was a win for me since I got paid and was able to travel with the team and watch my sister play. It was a great experience and definitely memorable for my sister and me.
Next, I attended Washington State University in Pullman for Engineering. I started out in mechanical engineering, but decided I liked coding more, so I went into electrical engineering. I received my BS in Electrical Engineering from WSU in Vancouver. I was one of about four girls in a class of 100+ students in the Engineering program. A group of friends and I decided to start a Women in Engineering club at WSUV to promote women in STEM to young girls at local Vancouver schools.
My dad is also an engineer. When he wasn't around, I was the one that could fix stuff. I also helped my dad with woodworking projects. So a hands-on/fixing kind of career path seemed the right way to go.
MY INTERESTS OUTSIDE OF WORK
Outside of work, I enjoy hanging out with family and friends, and of course my dogs. I play video games, I enjoy most anything outdoors, like walking, fishing, or camping. Also, my husband Chandler and I like golfing together.
Playing video games is one of the ways I enjoy interacting and socializing with friends, especially ones who don't live nearby. I am also part of our SIGMADESIGN gamers club. On the weekends Mariners and Kraken games are a lot of fun. I've never been to a Seahawks game, so that's on my bucket list. I'd like to join a Seattle area, adult league volleyball and/or softball team. I've also thought about finding a club volleyball team to coach because I really like working with kids.
DO THE CORE VALUES INFLUENCE YOUR WORK?
Take time to laugh, is one core value that I value working on the ERP. Sometimes those meetings can be stressful due to different ideas between departments, so knowing how to find a way to lighten the subject or taking time to laugh is definitely ideal. Also, Exceed customer's expectations influences my work on NetSuite and OpenAir. When our employees submit tickets for help, making sure they know their issue is important goes a long way. Being Adaptable is huge working with the ERP system. Things are changing all the time, and some requests can impact other ongoing projects, so I need to be adaptable. Our team needs to be adaptable to schedules and workload in coordination with ERP release schedules.
MY INVOLVEMENT IN SIGMADESIGN'S CULTURE CLUB
When I was an intern, part of the program included doing a scavenger hunt, and one of the tasks was to attend a Culture Club meeting. A company having a Culture Club was very interesting to me because I never thought a company would have a club dedicated to culture. I was hooked after I attended my first meeting and heard about the topics and different activities going on.
Since then, I've attended most of the meetings. I've hosted a few events, including a craft night at HQ before COVID, as well as helping to organize the first Sigma Games. Since I started working at HQ, and now I'm based in Seattle, I can provide a dual perspective, be a voice for those who are not at HQ, and bring some of that culture to the Seattle team. Attending Culture Club meetings helps me know what HQ is planning so we can plan similar events at the Seattle office.
WORKING AT SIGMADESIGN
I started at SIGMADESIGN as an intern in the summer of 2018. I've officially been with Sigma a little more than three years after my internship, so I guess I've been here about four and a half year's total.
I started as a Firmware Engineer intern. After I graduated I got hired on full-time as a Sigma employee for Software Quality Assurance, then moved into the NetSuite world as a Junior NetSuite Admin, and now I am our NetSuite Administrator and the main Administrator for SIGMAU.
In NetSuite, I enjoy refining and making processes more efficient. I get to work with a lot of different departments including engineering, the shop, finance team, labs, and supply chain. Within the last year, it's been a big push to track and process manufacturing projects in the system. One huge thing we're working on now is a quality management module, which is a NetSuite plugin we are implementing specifically for manufacturing and will eventually for HQ as well. This will allow the teams to inspect incoming purchased or fabricated items so we ensure high quality for our customers.
I recently took on the role of ERC Facilitator (ERC stands for ERP Review Committee), which leads a group of people from different departments that meet bi-weekly to discuss topics that impact processes within NetSuite. For example, the shop may have an issue they need to fix. They bring it to the meeting and we discuss how it may impact other groups' current processes or workflows in NetSuite. From there we assign someone to lead the project to completion and they continue to keep the group informed along the way.
WHAT DO YOU ENJOY MOST ABOUT YOUR PROFESSION AND ABOUT WORKING AT SIGMADESIGN?
First and foremost, the people. My co-workers and my boss are awesome. I really enjoy the flexibility of being able to work from home, especially when it comes to NetSuite work. This allows me to focus on tasks and get them done with less distractions. The focus on work/life balance is huge – the company management understands that you have a life.
I look forward to more people using NetSuite. It can be a very helpful tool. I know some people find it overwhelming, but it can be very useful once you get familiar with it. I think beyond that, projects that are big game changers for departments. Projects that make their day-to-day work more efficient or save them hours of overhead time. I love anything that involves people getting out of Excel and into NetSuite. Most of the time when that happens there is an "ah-ha" moment where they realize how many new options are available to them for reporting, notifications, automation, and more! These kinds of process improvements are exciting to me.