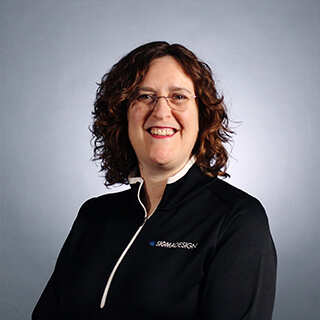 "One thing that became clear to me over the years working in, and visiting a lot of different organizations is how important company culture is to me. During the interview process at SIGMADESIGN, I understood that the culture was going to be a good fit…"
With BA in Physics and a Master's Degree in Thermal Engineering, I enjoy any opportunity to apply my knowledge and experience to better understand what our clients need. I take pleasure in communicating with clients to figure out all the ways SIGMADESIGN can help.
Years at SIGMADESIGN: 6
---
EARLY LIFE AND EDUCATION
I grew up in Ramat Gan, Israel (near Tel Aviv) in a very traditional home. I have a younger sister, and both of my parents worked. Being into science and math, I was not into playing with dolls very much. You could think of me as a Tomboy. I loved building things with electronics and magnet games that we had.
Growing up, I spent time with my dad who was very good at working with his hands. He would present a problem statement and we would try to solve it. I thought it was a lot of fun. For example: back then we didn't have a dryer; clothes would hang on a line outside to dry. It was a static line and my dad wanted it to move, so we found rollers and installed them so we could access our clothes more easily. Another project we worked on was car visors. There's a lot of sun in Israel, and back then car visors weren't that sophisticated. He built an extendable wing on the visor that would block more light. I had a lot of fun discussing ideas and solving problems with him.
What was your education?
In high school, I studied math and physics. After high school, I went into the army, which everyone does in Israel. Because of the army's degree program, I was able to extend my service as a lieutenant for three years and earn a bachelor's degree in Physics. I'm not allowed to talk about what I did in the army, but I learned a lot about science and dealing with real world problems.
At that time, women in the army didn't typically go running in the hills with guns – most women were teachers or secretaries. With my education I was able to do much more; I know I influenced things that were then later used in the field to save lives. I was proud to have been able to contribute so much.
Through my service, I realized I'm a much more practical person – physics was more theoretical, and so I decided to get my master's degree in thermal engineering, focusing on heat transfer. FEA, building test beds, doing practical application stuff – that was definitely more up my alley. Both of my degrees were from Tel Aviv University.
When I finished with the army, I did what every Israeli does when they leave the army, travel the world! That's kind of a joke, but many people do go out and explore. While I was in school, I worked as a teacher, teaching kids with learning disabilities how to prepare for their final exams. Math and physics were very easy for me, and so I prepared these kids in those subjects. Becoming a teacher was a consideration at that time, and I wrote a book about how to teach.
With the savings from my teaching job, I took my backpack, and toured New Zealand and Australia for 8 months. I did it all – toured the islands, went rafting, skydiving, whale watching, and scuba diving with sharks in the Great Barrier Reef. I started to run out of money, so I worked a bit as a nanny caring for a baby in the middle of the Australian wilderness, on a cattle farm. While there, I participated in slaughtering and butchering a cow. This kind of experience builds character and disconnects you from everything, and that's the point. You discover yourself, push yourself to the limits, come outside of your comfort zone, and learn a lot along the way.
HOW DID YOU GET STARTED IN YOUR PROFESSION?
When I came back, I had to start my adult life and find a job. I knew I didn't want to be a teacher anymore, and I wanted to go into the product industry. I got my first job as an R&D engineer at AVX, the Japanese conglomerate who used to do passive components (resistors, couplers, capacitors, inductors) in volume. The division I worked for was in Jerusalem. They wanted to introduce this whole new line of couplers, and the department lead took me under his wing. I knew nothing more than what I had learned in school, but they taught me how to design and test, and how to develop these products. I climbed the ranks to become the manager of the entire department.
During the economic boom of the 2000's, I decided to go to work for a startup company to be an RF engineer, which I didn't know anything about, but I figured I could learn. I realized that my passion is managing, working with vendors, and making things happen. Shifting away from working on the RF stuff, I began managing projects and outside vendors. Working with companies like TSMC and many others, I got to travel a lot. When the company had to downscale significantly, I was laid off.
Next, I went to work for ShellCase. They were focused on developing wafer level packaging for image sensors and other semiconductor devices. In the early 2000s, cameras were just starting to be included in cell phones. I began as a product marketing manager, so I wasn't really doing development, but I was working with development team. I could dabble in development but also talk with customers, which I was finding really suited me. While there, I led the development of multiple different platforms, established a facility in Korea and eventually became the VP of marketing and product development. I'm very proud of that work because it enabled better cameras in cell phones.
Then, ShellCase was acquired by Tessera (now Xperi Corporation) in California, who also acquired Digital Optics Corporation (DOC) in Charlotte, NC. That's how I moved to the US, and I worked with DOC in Charlotte until 2013. My responsibilities included market analysis, identifying product requirements, R&D, talking with customers, licensing agreements, developing business models for how to sell products, and developing a pilot line. I found this work challenging but very fulfilling. I think back on that time fondly because I feel that work made an impact. The company made multiple transitions between 2011 and 2013; they fired 95% of employees, and the last 5% went to FLIR. This is when I moved to the PNW and started working for Sharp, and then made my way to SIGMADESIGN.
WORKING AT SIGMADESIGN
I joined Sigma in June of 2016. As a Business Development Manager, I interface between clients and engineers. The beauty is that I can leverage my broad experience which enables me to understand our customers' needs. I can understand many different pain points because I have experienced much of what our clients are doing.
One thing that became clear to me over the years working in, and visiting a lot of different (and some very large) organizations is how important company culture is to me. I knew what kind of company I wanted to work for; money or even the role were not the most important to me. During the interview process at SIGMADESIGN, I understood that the culture was going to be a good fit for me. I could see that I wouldn't get bored and that the job would be stimulating and fun!
That's what came across to me during the tour and talking to the team. Also, understanding the breadth of projects and how broad my engagement could be was very enticing. I am happy with diverse responsibilities and the ability to say "well how about we try this?" I am able to contribute in ways that are not necessarily part of "my job."
TEAMWORK AND VALUES
What's Your Favorite Core Value?
Take time to laugh is my favorite – I think it's very unique to Sigma, and is a principle that was lacking in a lot of places I worked before. I like that it's a core value and that we actually do that. The other core value that is important to me is "help each other." One example of this is our employees supplying meals, and donating their own paid time off to other employees in need. The company is like a family that talks about how to help others and does something about it. I think that is exceptional and shows that Sigma has a heart.
The core values influence my work all the time – integrity always guides me. Sometimes there are conflicts where you don't know what to do; I remember a situation with a customer that came down to integrity. We thought about it, and did the right thing. Integrity is a clear guidance for a lot of the things I do. It makes me feel good about the service I provide.
What are your interests outside of work?
I love world travel. COVID crushed that, but I still have a large list of places I'd love to visit. I've seen a lot through my working experiences, but I want to go to Myanmar, South America, and Nepal once my kids are out of the nest. I love nature, hiking, taking pictures, seeing places that I've never been before. My favorite is Barcelona. I've been there a number of times, it's amazing…