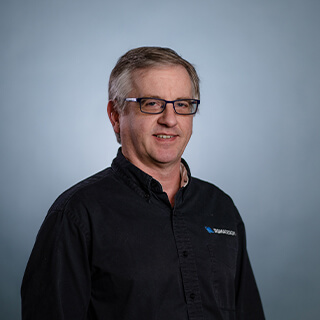 "The amount of variety in projects and disciplines that I touch is amazing. It keeps things interesting all the time. It's also a major plus to work with such good people. Even when the work is hard, I still want to come to work because I enjoy my coworkers."
As an Electrical Engineer with a minor in Computer Science, I enjoy any opportunity to apply my skills in a real-world setting. I'd love to do more large robotic work.
Years at SIGMADESIGN: 10 years
---
EARLY LIFE AND EDUCATION
I grew up near Lucia Falls, WA on my parents' farm – about 40 acres, which expanded while I was young as we acquired neighboring properties. My dad built the house starting when I was about one year old, so I lived in that same house while growing up. We had some livestock including a donkey, named Harry S. Truman, who we found abandoned in the woods near Mt. St. Helens. We also had a pony, then a horse… I was involved in the 4H club, but after I was finished with that we sold the horse and I got a little Honda trailbike. I mounted an extra gas tank to it and spent a lot of time exploring in the Yacolt Burn area.
WHAT DREW YOU TO ENGINEERING/TECH?
My mom always says I started taking things apart before I could walk. I've always been mechanically inclined, and I got into computer stuff fairly early. In 10th grade, I had a mentor who worked for Xerox and he helped me build a small computer, a TRS80 clone that was all hand-wired and soldered with big 8" floppy drives. My dad actually used it for a while for his office work, and I used it for a while in high school. I haven't turned it on for a few years, but I still have it. It's amazing how much technology has changed over the last 30 years or so. A 286 was a big deal at the time, but that's nothing now.
I attended Clark College for two and a half years, and then transferred to University of Portland for another two and a half years. My primary degree was in Electrical Engineering with a minor in Computer Science. School was never my favorite thing, so I was eager to get out and apply my skills in a real-world setting. After college I ended up in the software field, working for Hash Incorporated, a 3D animation company here in Vancouver. When I started, we were building the Windows 386 port of their software, Animation Master, which was originally for Amiga. I was doing the bulletin board and tech support, answering phone calls, and then I moved into debugging and programming, and building the weekly installs for distribution. We did 20 or 30 tradeshows a year selling that software. Development on that software is closed now, but they still sell it.
After that shut down, I started my own company selling hobby electronics. I was actually the fifth US Arduino distributor. I went to the Maker Faire four or five years in a row, and had a nice little online store. Eventually, the demand was high enough that I couldn't really compete with places like Sparkfun and Adafruit so I put it to rest and started looking for other opportunities.
WORKING AT SIGMADESIGN
I saw an ad for a job at SIGMADESIGN and thought it sounded like a perfect fit. After applying, I didn't hear back right away, so I took a different job. I was there for about two weeks and then got a call from Tyler McNamara asking if I was still interested and could come in for an interview. I accepted the job at SIGMADESIGN and we worked out a deal so that I could work part time for a few months at both places until the other company was in a better situation.
The amount of variety in projects and disciplines that I touch is amazing. It keeps things interesting all the time. It's also a major plus to work with such good people. Even when the work is hard, I still want to come to work because I enjoy my coworkers. We've grown so much since I started as employee seventy something, and now we're over 400! I think we've done a great job keeping the small company feel. Things like reporting the weekly sales and projected quotes add a nice touch – not a lot of companies do that, and it helps make everyone feel connected to the business. There aren't a lot of barriers to communication either, even at the executive level – everyone knows where Bill Huseby's desk is, and you can just go have a conversation with him.
Any big automation system type stuff is what interests me. We've done some test beds for big 3D printers, where I was pretty involved in the design. Any time I get thrown a big pile of stuff and asked to "make it work", I get excited. That doesn't happen as much as it once did, but I think the projects that include more systems integration overall with mechanical, electrical and software are my favorite types.
TEAMWORK AND VALUES
I believe if we didn't have and follow our core values, we wouldn't be as successful as we are today. Mistakes can happen during projects, but we fess up to them and turn it into a learning experience. My two favorite core values are Take Time to Laugh and Integrity.
Having the chance to learn new things and expand my skillset and capabilities at work is important to me. There's been a lot that I didn't know how to do, and I've had opportunities to learn those things. My job has changed a lot over the 10 years I've been at SIGMA, starting with PCB reworks, to more assembly in the lab, and then programming, and some systems engineering work. I move around and do what we need. At SIGMADESIGN, things are pretty flexible, which is awesome.
I'd love to do more large robotic work. We do some of that already, but I always like that work. I really like working on new things I haven't done before.
WHAT DO YOU LIKE TO DO OUTSIDE OF WORK?
For the past 40 years I've been heavily involved with the Chelatchie Prairie Railroad, which started as a paid job in high school. Before I had a driver's license, I rode my rail bike down the track to get to work – a 10-speed bike modified with skateboard wheels and an outrigger. Now the railroad runs with volunteers, and we maintain and operate a wide variety of equipment.
Over the years I've acquired my own train set. I collected unneeded equipment on the line from various owners and when I was 18, I saved up $3000 and was going to buy a 286 computer with a bunch of RAM so I could run AutoCAD, but I ended up buying a locomotive instead. Luckily the locomotive is now worth a little more than the computer. In addition to that, I have a baggage car, caboose, and a wrecking crane that can lift a 200-ton locomotive. Everyone needs their own train!
I also have a couple of stationary engines from the early 1900s. They were used primarily to run compressors in a creamery. Too many projects, not enough time… those are my "future projects" since right now I spend a lot time working on the Chelatchie. The biggest project is keeping the shop organized. I was keeping a spreadsheet for a while that kept track of the weight of the steel I've collected. But I stopped counting after it passed a million pounds.