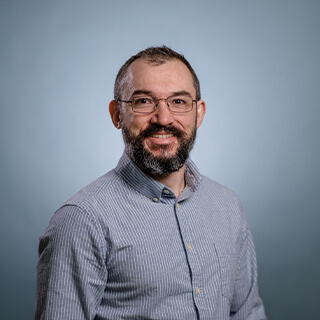 "The sheer breadth of things that I have been able to work on is incredible. …I am excited about the diversity of innovative project that continue to walk through the door."
As an Electro-Mechanical Engineer, my experience bridges the entire range of product development including machine design, production tooling, system automation, and software development. I enjoy helping our clients refine their ideas into real world solutions.
Years at SIGMADESIGN: 15 years
---
EARLY LIFE AND EDUCATION
I grew up in Carson, Washington, a small town in the Columbia Gorge about an hour east of Portland. I attended Stevenson High School and did well in school, even though I didn't really like it. Luckily, I had great teachers who kept me engaged. They were eager to let me do projects that interested me more than the typical class work. My mom was a budget analyst for the forest service, and my dad is a carpenter. I think with my exposure to that combination of numbers and building things, Mechanical Engineering seemed a natural direction for me to take.
After high school, I attended the University of Portland which is a relatively small school. I preferred this coming from a small community where I had become accustomed to close relationships with my teachers. I did entertain the idea of attending UW, but I didn't want to go to a big city and to a university with huge classes.
At UP, I built relationships with all my teachers. The class sizes were small, and I got to know each of them very well. I focused on electronics, robotics, building a sort of Mechatronics concentration that wasn't offered there at the time. Additionally, I took classes in Failure Analysis and Thermal Dynamics. I knew when I graduated that I'd be a well-rounded Mechanical Engineer. After graduating, I thought maybe I would work for the Army Corps of Engineers doing hydro-electric work. I ended up working for a design house based in the Bay Area. They placed me as a contract Engineer at HP working on printers.
My interests outside of work include building and making things. When I was younger, I enjoyed video games and white-water kayaking. Now with a family it's nice to spend time doing things together like hiking and climbing at the rock gym. I also enjoy learning new things and making things with my daughter like LEGO, knitting, and leatherwork.
ROAD TO SIGMADESIGN
Prior to working at SIGMADESIGN, I worked for a couple of different companies in which I provided contract services at HP. While at HP, I was working on a recirculating printer, which was a cool system that recycled the ink. SIGMADESIGN team members were designing the hardware for putting it together and some of the assembly tools, so I got to know some of them through that project. I took many trips to Singapore for build support and ended up travelling with Bill Huseby and Shawn Hartmann a fair amount. They mentioned that they had some openings at SIGMADESIGN, and so I applied. I didn't get hired right away, actually not for another year. Doug Hill later told me the reason they didn't hire me right away was because I was a good connection to have to ensure that more work came to SIGMADESIGN from HP. About a year later, they did finally hire me and now I have been with SIGMADESIGN for 15 years. My first day on the job at SIGMADESIGN I was told, "put your desk together." I thought this was a great test for my first day.
My role at SIGMADESIGN has changed quite a lot over the years. I was brought on as a Mechanical Engineer, but I also provide code development. When we were still a smaller company, I helped doing a lot of different things including some shipping and receiving, and assembly work. I picked up programming skills through my education and from my previous work experience, so early on I was asked to develop software that would talk to a panel meter. This piece of software is something that we still use (a DLL). As a Mechanical Engineer, I have designed a lot of line tools that are also still used to this day. I've also done some LabVIEW work, and a bit of circuit design. Gradually, I took on more PLC programming. When SIGMADESIGN decided to create a dedicated Systems Engineering and Controls Engineering Department, I became a part of that.
The thing I enjoy most about my profession is the variety of work that I have been able to do. I have worked on some amazing technologies and products as well as test equipment which tests cables for consumer electronics. The sheer breadth of things that I have been able to work on is incredible.
I wouldn't say I have a favorite project type per se, but what I really enjoy is the size of projects that I work on. My work seems to cycle through little projects and bigger projects. The neat part about little projects is the satisfaction that comes from completing things more quickly. On the other hand, there is something great about larger projects where you take a deep dive into the product. Immersing myself with the intricate details and contributing to the success of the project is a different experience than that of completing smaller ones. About the time that I am tired of working on a large job, it usually wraps up and I'm back on the cycle of working on little ones.
TEAMWORK AND VALUES
I really enjoy helping my co-workers. Having been at the company for 15 years, I know a lot of stuff. Consequently, I am one of those people that the team comes to for answers about project work. I like my ability to help others. Helping each other is very important to me, and I'd say "help clients and each other" is one of my favorite core values. Especially the "helping each other" part!
Another thing I really appreciate about SIGMADESIGN is the work flexibility and environment. The company emphasizes being a place that is enjoyable to work. Being an Engineer, there are a lot of social things that I don't participate in. I'm a stereotypical Engineer in the fact that I am a bit of an introvert, and I prioritize time with my family, but I still appreciate the emphasis on good culture and team building.
I do miss the days when the company was smaller, and I knew everything about all the projects and knew a lot of my co-workers a lot more closely. Now that we are a larger company, that is a lot harder. That family feeling still exists within individual departments, but it is hard to be close with everyone in the company. Sometimes I'll work with new people on a project but then I don't see them again once we are onto new projects. That can be hard; working with different people makes it a little harder to create that same sense of family.
Looking at future project work, I would be excited to work on "space stuff". We have done some space related projects, but I am excited to do more in-depth work on these types of projects. In addition, I am excited about working on larger, automated systems. A project I am working on right now has a whole new level of integration for automating the entire system not just a specific piece of the process. Again, I am excited about the diversity of innovative projects that continue to walk in the door.