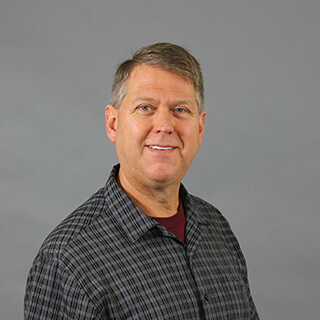 "One of the most interesting things in my life has been watching SIGMADESIGN grow. I've been involved with Sigma since there were five employees. It's fascinating to see something grow into such a large thing…I'm proud to be a part of it. It's been a real treat."
Mark is a Senior Mechanical Engineer who joined SIGMADESIGN in 2009. For much of his tenure he has worked as an "on-site" client consultant. Mark works remotely from his home in Michigan.
Early Life and Education: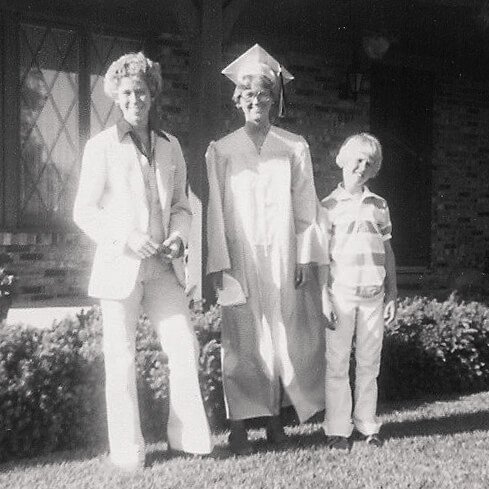 I am the youngest of three siblings, and a child of the 70s. As is typical of mechanical engineers, I had a mechanical inclination as a kid. My mom was a medical technician, and my dad was raised a farmer but became a social worker later in life. While I was growing up, my dad was very frugal and resourceful, and enjoyed fixing things. He handed that down to me. Now at 93, he still works in a second hand store, reviewing mechanisms and toys and so on before they go on sale.
After high school, I attended a local college in Grand Rapids, MI, and got a business degree. I owned a small landscaping maintenance company, which I sold to one of my employees. My parents encouraged more education, and urged me to go for a technical degree. The sale of the business was enough to finance a few years of school, so I moved out of Michigan and attended Montana State University where I got my engineering degree. I love the outdoors, and always have, so Montana suited me. I took a class in extreme skiing which was a lot of fun, and decided to get a master's degree as well. During this time, I met my wife Monica, who is from Colombia. She was at MSU to get her master's degree in electrical engineering.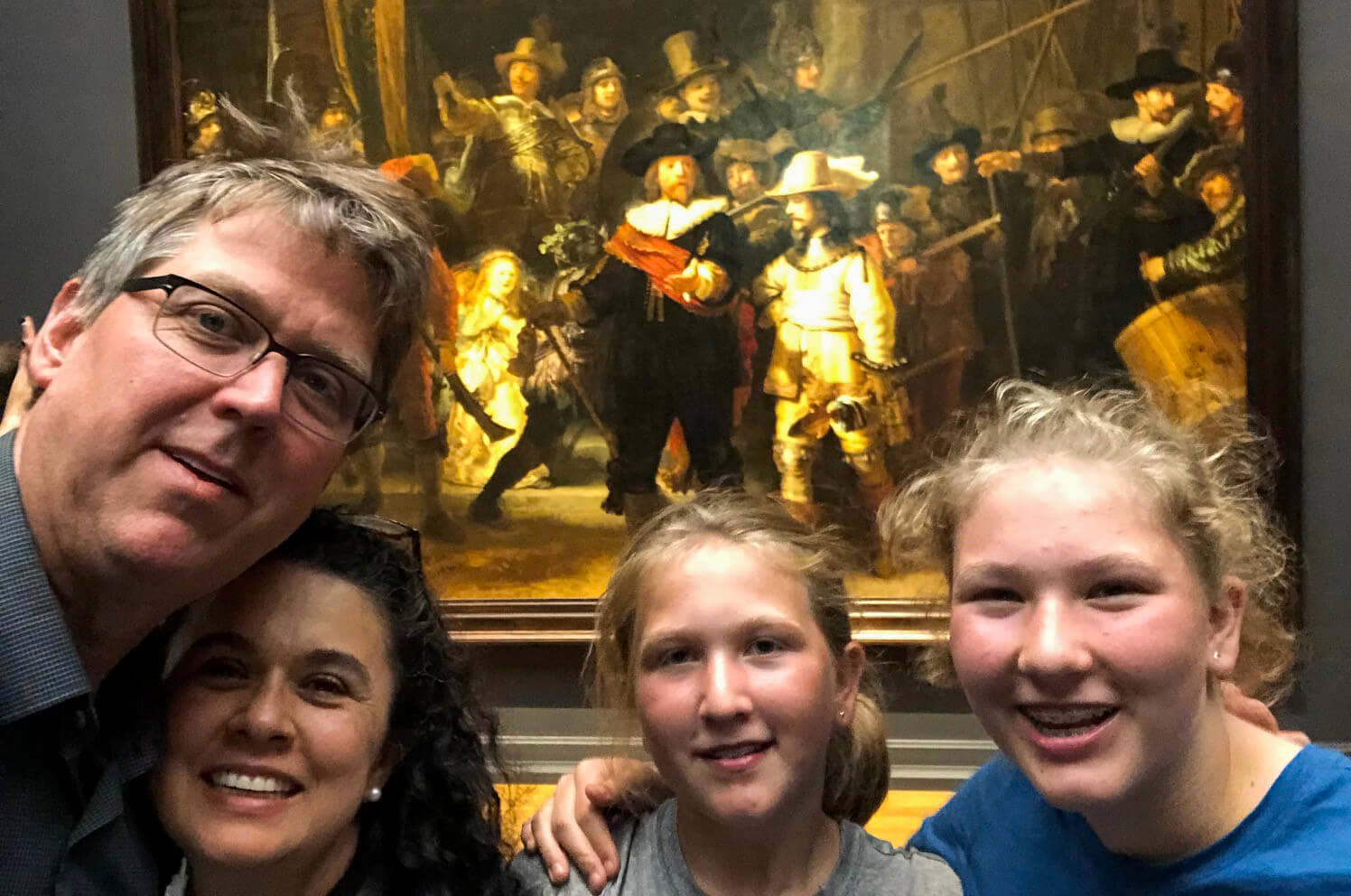 The Road to SIGMADESIGN:
Monica and I were engaged, and we attended a job fair at MSU together. She was offered a job at Underwriters Laboratory and since there was nothing tying us down, we decided to move further west to the Portland area.
While I was at MSU, I led a team of undergraduates to win the American Society of Mechanical Engineers (ASME) National Design Competition. We got some nice media coverage, and I was able to share a video of this on my resume. That video (not my master's degree) landed me a job at DW Fritz. After a couple of years, Monica and I both ended up at HP, where I worked for six years. During that time, I travelled overseas for some projects and I ended up at a table with some guys from SIGMADESIGN – Bill Huseby and Ben Mergen. I worked with them, bringing up manufacturing lines in Malaysia. That was my first exposure to SIGMADESIGN, which probably had about five employees at the time.
In 2008, HP cut the division I was working for, so I was out of a job. A few months later though, I got a call from Bill Huseby, and he offered to hire me to work as an on-site consultant at HP. I would be working on interesting projects at HP, employed by SIGMADESIGN. I accepted, and I've been doing that for most of my time at SIGMADESIGN.
So here we were, living in Vancouver, had a couple of kids (both girls), great house, steady jobs, loving life, and one day Monica told me that she wanted to live closer to family. We couldn't move to Colombia for a variety of reasons, so we decided to move back to Grand Rapids where my family lives. It wasn't an immediate departure – I gave two years' notice – but we moved, and I left SIGMADESIGN. Monica looked at 25 houses, and we ended up moving into the house next door to my older sister, and about a mile away from my parents. Doesn't get much closer to family than that!
Other work, and Between Jobs:
I'm a skateboarding enthusiast. Every so often I'll put it away for a while, but I always comes back to it. Growing up, my older brother and I skated together. He was more of a risk taker than I was, and he built a quarter pipe. We entered some freestyle competitions and won some trophies. When I was at MSU, I rode his skateboard to and from the campus.
Back in the early 2000s, I was designing skateboards for fun. There was a small community of hobbyists online, and forums for discussion, but not really a market for the type of thing I was working on – unique, distance longboards. Eventually I decided to pursue a patent for my design. I founded my longboard company in 2002, and it's evolved so much since then. It's very fulfilling to see people enjoying my skateboard designs.
Especially during COVID, people are buying distance skateboards. It's not about tricks, it's about travel. I've ridden over 200 miles in 24 hours, and I've done that five times. That's called an Ultra Skate. You just skate around a track for 24 hours. No breaks, no sleep, just skate. I can maintain about 8 or 9 miles per hour. I go around the 1.5 mile NASCAR track about 140 times. The guy who holds the world record of 313 miles maintains over 13 miles per hour for 24 hours. He lapped me 70 times on some of my components.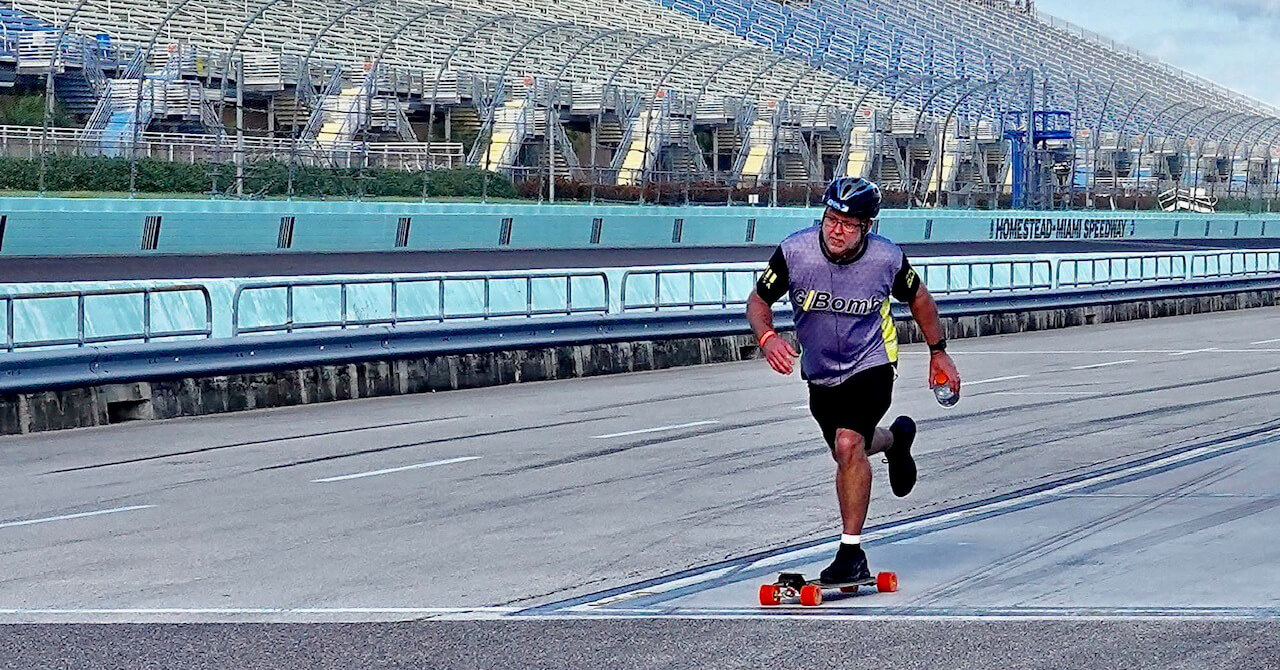 Returning to SIGMADESIGN:
About six months after moving back to Grand Rapids, and just building and selling longboards, I get a call from Matt Cameron, saying they had some work for me and he asked if I wanted to come back to SIGMADESIGN. I turned him down. A few weeks later, he called back and said the customer was willing to have me work remotely from home in Grand Rapids, and I accepted. I've been doing that ever since, and I love it.
One of the most interesting things in my life has been watching SIGMADESIGN grow. I've been involved with Sigma since there were five employees. I was number 15, and now the company has over 375 employees. It's fascinating to see something grow into such a large thing, and it's impressive to see how pragmatic the decision making process is. I'm proud to be a part of it. It's been a real treat.
Working from home certainly has its own challenges, but I have a pretty good variety of work. I have a couple of 3D printers here that I can prototype with, and see what works and what doesn't. I've been doing this for a long time, and there have always been ways to communicate with my team before Zoom was a big deal. When you have a relationship with someone, it becomes really easy, but there's always the risk of slipping out of engagement. You need to keep in touch very regularly so that there are no surprises.
My customer knows me well, and they've given me a lot of freedom and understand how I work. I keep a note at my desk that says, "Clean your office. Make a list." It's so important to have an organized workspace; it keeps you productive. Having a list keeps you on track so you aren't meandering.
I still work on skateboard stuff, too. My day job makes me better at making skateboards, and making skateboards makes me better at my day job, so it's all very fulfilling and I've learned a lot from it.
There are always ups and downs. Some work is more exciting than other work, but the boring stuff goes away, it gets done, and you move on. I'm very mechanically inclined. I like to find the simplest and most robust solution to a mechanical problem. I like to be given a mechanical problem that my mind can think about solving. That makes time fly by, and there are so many tools now for quick-turn prototyping, so many new technologies… it's just a great time to be an engineer. It's always a great time to be an engineer.