Time at SIGMADESIGN: Six years
{ I really enjoy being a part of the team that influences the strategic direction of the company at the executive level; we're making sure we're still a place people want to come to work, and making sure our employees are satisfied and want to be here. } Rachelle Hutchens
ABOUT
What was your youth like?
I grew up in the Portland Metro Area and am an only child. I didn't even have any cousins for the first ten years of my life – I think part of the reason why I ended up in Human Resources is because I was dealing with grown up issues from an early age; there was no "kiddie table", so I was exposed to a lot more mature things early on in my life.
I was really into sports – again, because I was an only child, my parents wanted me to be involved in organizational activities, so I did ballet, soccer, swimming, track, and basketball. Competitively, I ended up sticking with soccer and track in high school. There was talk about going into college doing one of those, but I had my seventh concussion my senior year of high school… I was rocking the cool-looking helmet that you wear when you've had a concussion, and I was varsity captain. I had also broken my wrist the summer before senior year, so I had a cast and my helmet, and my team nick-named me "The Power Ranger".
A nice thing about being an only child is that you're less expensive; it's one plane ticket instead of five, so we traveled a lot, and I had the opportunity to visit different countries and experience different cultures with my parents.
How did you become interested in Human Resources?
I knew I wanted to be in the Employee Relations field going into college at Washington State University. A lot of jobs won't let you start out in Employee Relations, but Recruiting is a nice steppingstone into that field. Recruiting is also sort of the more positive side of employee relations; you're hiring people, making people happy, and finding them a good fit for their career, so I really appreciated that aspect of it. I was very interested in training as well, but again, that's not something you can just jump into, so Recruiting was a nice gateway for me.
What did you study?
I have a Bachelor of Arts in Organizational Communication and Business Administration degree from the WSU Honors College, and I graduated summa cum laude. I studied abroad for six months in Australia, at University of Wollongong, and wrote my thesis about the differences in the workplace between Australians and Americans. I interviewed Americans who were working in Australia, and Australians who worked in America, and used that as my data. The main finding indicated that Australia was roughly twenty years behind America in terms of our employment laws – inclusiveness, minority rights, women's rights, etc. The concept of work-life balance also came much later to Australia.
What do you enjoy doing when you're not at work?
My husband and I have three kids (10 months, 3 years, and 4 years). We do a lot of outdoor activities, go to city and national parks, and on hikes. My grandparents live in Kalispell, Montana, so we love going to Glacier National Park. We've been going there for years, and there is always something new to explore or experience…like bears. At the start of a hike one summer, a grizzly bear came running down the path at us, presumably spooked by something else. We decided we'd go in the opposite direction from that grizzly, thinking "there can't be a grizzly this way, we just saw one that way!", and not a mile down the trail, I see a cub. My husband spotted the mama bear the size of a VW Beetle in the woods, and I just froze. My brain locked up not remembering if I was supposed to "get big" or curl in a ball, so I just did nothing apparently. It took my husband yelling frantically at me to get behind him for me to unfreeze. Luckily, the bears were more interested in the berries than humans, and left us alone.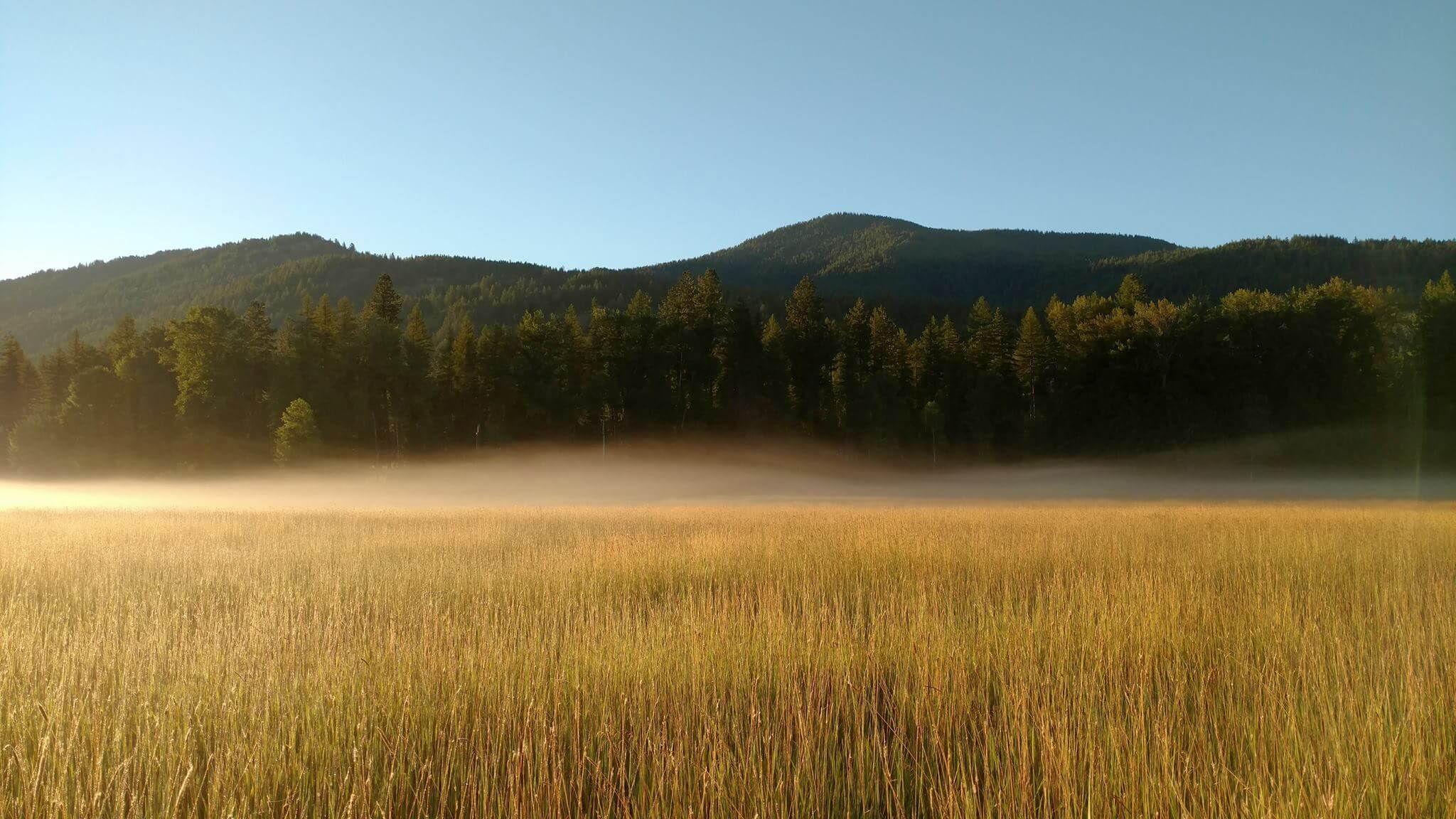 We own a property in Idaho near Sandpoint. My husband and I bought twenty acres, my parents bought the adjacent forty acres, and our property touches the corner of my in-laws' 40 acres. There's a creek, pasture, forest, and barn… Lots of wildlife (I haven't seen any bears). All our neighbors out there have horses, so our kids are more or less obsessed with horses now.
When we aren't outdoors, we also watch a lot of movies – I'm really into sci-fi and fantasy stuff, but I don't discriminate. I like 'em all!
WORKING AT SIGMADESIGN
How did you find SIGMADESIGN?
About seven years ago, I was working at Aerotek and was a member of the Pacific Northwest Defense Coalition; at one PNDC event, I met John Schlottmann and Doug Hill. A colleague of mine was the account manager for SIGMADESIGN, and when she left the company, I inherited the account. At the time, Sigma was growing, and one of their Strategic Initiatives was to create "The Hiring Machine".
I went to lunch with John Schlottmann, and he asked me about my interest in joining SIGMADESIGN full time. He got me excited about it, and then it took another six months or so to get me hired. At that time, it was a big decision to hire someone who was not a producer (an engineer is a producer for example), but once I was hired, I think Bill was happy with the decision. My first official title was Organizational Development Specialist, which was essentially an HR role. I've worn several hats since then including Marketing, Business Development, On-Site Management, and now I'm the Director of Human Resources.
What do you enjoy most about your profession?
I really enjoy being a part of the team that influences the strategic direction of the company at the executive level; we're making sure we're still a place people want to come to work, and making sure our employees are satisfied and want to be here.
Since I've been in this role, we've put more emphasis on getting people the resources and the help they need to be successful, which I am very proud of. We've introduced Sigma University (SIGMAU), which is an online tool that houses training, resources, and descriptions for each department about how they get their jobs done. Also, I developed a manager orientation. I think it helps managers feel more prepared to take on personnel-related responsibilities. In the future, I want to focus more on employee engagement – figuring out how we keep our employees excited about SIGMADESIGN in a competitive market for talent.
What do you enjoy most about work at SIGMADESIGN?
The things I've seen this company do for its employees have been incredible; things I've never heard of in my professional career, and I've worked with lots of companies. We go above-and-beyond to make our colleagues feel loved and supported in their professional and personal lives. People have donated their paid time off (PTO) when co-workers need to take extended emergency leave, and prepare meals for families going through a tough time. Employees just rally around each other at every turn with genuine care for our teammates' well being. Our company respects that people have lives outside of work. It's an HR professional's dream job.
TEAWORK AND VALUES AT SIGMADESIGN
Do the core values influence your work?
You have to have Respect For Each Other to make an HR team work well. For instance, respecting each other means doing your best to find out what the root cause of a performance issue is rather than making assumptions. I've also driven into my team the importance of speedy responses. Even if they don't have the answer right away, the expectation is some sort of response is given within 24 hours. Just letting the person know that they've been heard is important, especially if it is an HR issue.
Taking Time to Laugh is also super important. HR is an emotionally-heavy department, so you have to be able to laugh as a way to lighten the load a bit. By the time issues get to me, it's usually beyond a simple solution. Laughing is how I make it through the day! The good news for me is that in this role there is an endless supply of comedic material.
The most successful people at SIGMADESIGN come with the core values built in. That's why a dedicated part of our interview process is devoted to discussing core values. Someone can be strong in a lot of other areas, but if they don't fit with our Core Values, we'll pass on hiring them. A lot of companies wouldn't do that, but we take it very seriously here. And we've seen that it pays off.