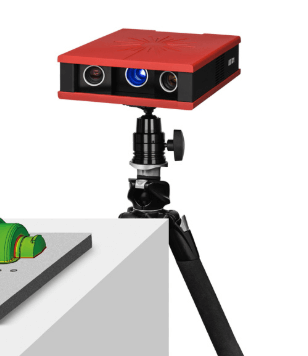 We have a new piece of equipment in our metrology department – the ATOS 3D Scanner. It brings more advantageous capabilities in-house ranging from 3D scanning to fully automated measurement and inspection processes. A team of SIGMADESIGN employees are trained and ready to use the machine and its unique software in order to provide our clients with a variety of unique services.
ATOS CORE – OPTICAL 3D SCANNER
The ATOS 3D Scanner performs three-dimensional measurement. Unlike earlier versions of coordinate measuring machines (CMM's), it does not require physical probes to manually touch various coordinates. The ATOS scanner sends thousands of pixels onto a product or part and thus can very accurately map surfaces, colors, and organic shapes. The ATOS software depicts objects made of surfaces/meshes, converts this to SolidWorks and compares this to the 3D CAD file to verify a part's accuracy. With thousands of points scanning the object, the ATOS is able to produce a report that shows the slightest deviations from the original file or original part. In addition to this, a part is scanned, using the software converted to a file, and 3D printed identically.
CAPABILITIES
The ATOS 3D scanner provides the basis for a diverse range of measuring tasks – from simple 3D scanning to fully automated measurement and inspection processes. For one project, SIGMADESIGN will use it to determine the accuracy of printed parts compared to the part's electronic file. We will generate a report to show any deviation in the part versus the part file. This enhances our QA offerings for clients across various industries. The scanner also assists in verifying that parts are machined true to their original design.
BENEFITS & USES
This scanner enhances offerings for our clients including:
• Improving our GD&T profiling and QA process
• Measuring organic shapes more accurately and efficiently
• Reverse engineering obsolete parts
• Designing test fixtures that pair perfectly with a product
• Facilitating accessory design for products not originally designed by us
SPECS
• 90 minute average turnaround time, depending upon complexity of item
• 500mm scanning range (scans larger objects using calibration bars)
• 0.01mm length measurement deviation
YES, WE CAN HELP
As we become increasingly vertically integrated, we strive to understand our clients' unique needs in the product development process, bring those services in-house when possible, and offer new services to clients in a wide range of industries. The ATOS 3D scanner brings additional value to our clients and gives us more opportunities to say "Yes" when asked if we can fulfill a need.
Do you need a part that is now obsolete? Do you want to make a perfect accessory for a product already in existence? Do you want to map your machined parts to ensure their quality? We can help.
Give us a call at 360.693.2600.