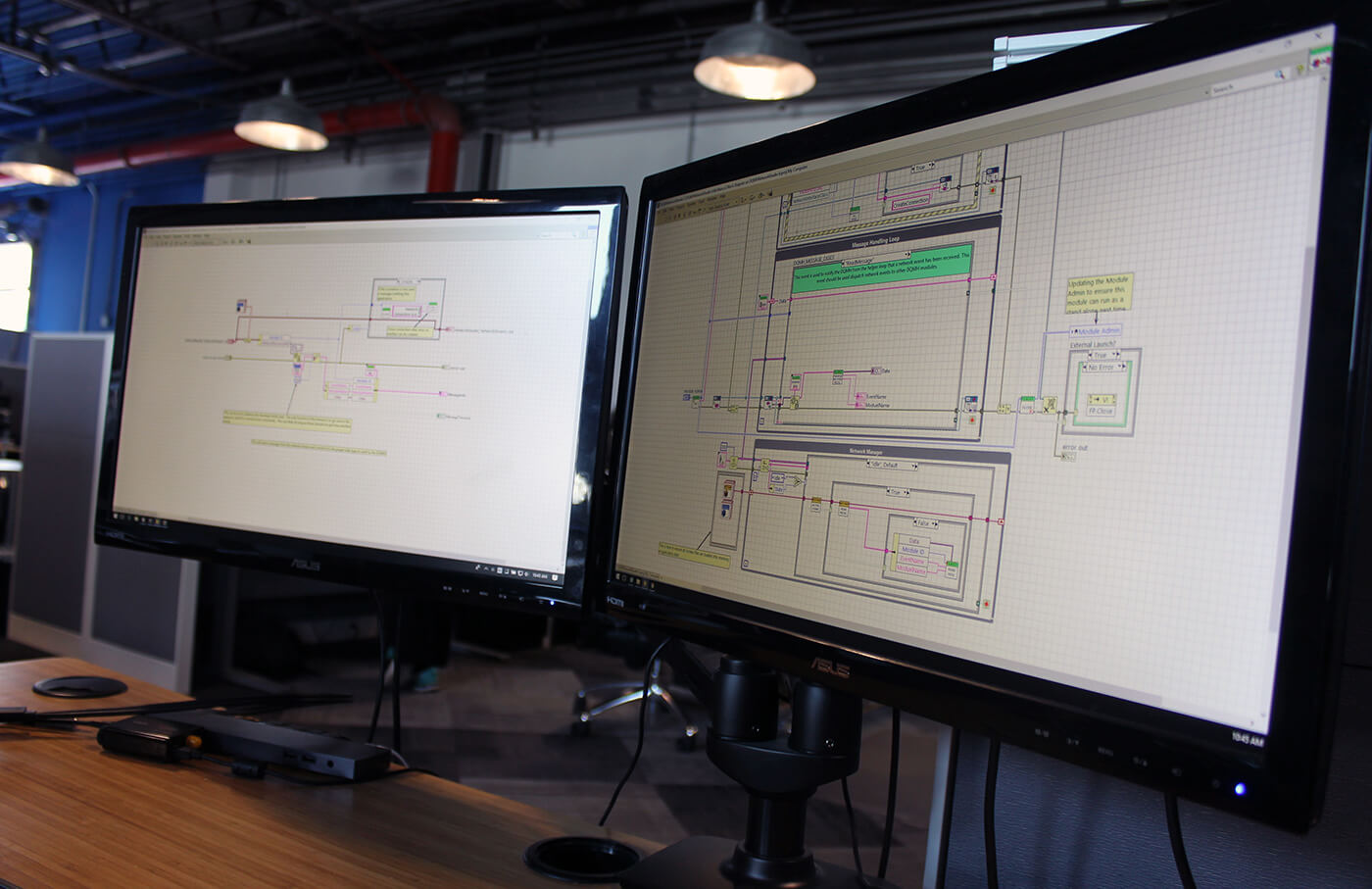 Shortly after I started at SIGMADESIGN over two years ago, a quest began to grow our LabVIEW software development team. SIGMADESIGN now has the foundation to tackle any small-to-large automation, condition-monitoring, embedded control, manufacturing, test or research project. I'm Nate Butler, a certified LabVIEW Developer (CLD) at SIGMADESIGN. In early 2018, Adam Hartzell joined the team. Adam is a mechanical engineer by degree and a former National Instruments engineer. He has an extensive background in the embedded RIO platform and is a Certified LabVIEW Architect (CLA). A few months later, we were fortunate to add an electrical engineer already working at SIGMADESIGN HQ to the LabVIEW team: Jeff MacQueen. In addition to extensive LabVIEW vision, motion/instrument control and RF experience, Jeff expands our language repertoire with a broad knowledge of C#.
The three of us share the title of "LabVIEW Software Developer," but we add more value to our clients than just software design. Our varied backgrounds of software, mechanical and electrical engineering mean that we work more effectively together to specify the most appropriate hardware components, select sensors and design the overall system hardware architecture. In instances where expertise is needed that lies outside of the LabVIEW team's core capabilities, we utilize the in-house force of SIGMADESIGN's engineering and design team – a key advantage for our clients.
Unlike some of our competitors, we spend time upfront to understand a client's application and choose the proper software architectures. This means before we ever lay down a single LabVIEW wire for a project, we know which concurrent software modules are needed, what tasks those modules should execute and what tests most effectively verify client features. Taking this time upfront leads to more stable software that is ready to grow with our client's needs.
We believe our clients get the overall best value in the region because we apply a team approach using proven frameworks, software engineering best practices, an agile workflow and utilize tools like Redmine for Issue Tracking and Git for Source Code Control. In addition, as a National Instruments Alliance Member, we have access to the latest software tools, technology and industry trends. This combination not only provides our clients with the best value in the region but also enables more realistically-estimated, rigorously-tested and fully-documented solutions that our clients can continue to develop themselves internally or take to the next level with SIGMADESIGN.
Nate Butler is a LabVIEW Developer at our office in Vancouver, Washington.
To find out more about what LabVIEW can do for you, please contact us at info@www.sigmadzn.com