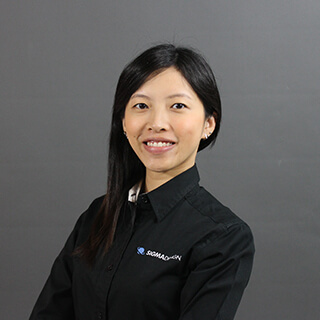 In many ways, Gin Goh is a typical Singaporean: bilingual, well-traveled and of Malaysian descent. She lives with her family, which is common for unmarried young people in Singapore. She has two brothers who also live in Singapore, plus two terrapins (turtles) for pets. Gin gets around her bustling city via its comprehensive system of public transportation and more often than not, on her scooter.
But her career path has not been typical. While enrolled in a diploma marine engineering program, she completed an internship at a shipyard. Wearing overalls, safety shoes, and a helmet, she climbed up onto huge vessels every day to tackle existing vessel issues. Basic seamanship, fire-fighting courses, and welding were part of the curriculum. "It was quite fun, but a tad tough for a lady like me," Gin recalls.
Gin joined SIGMADESIGN's Singapore office in 2010 as office administrator after a friend suggested she apply, since it was in her neighborhood. Being the only woman in the office at the time may not have been her first choice, but she says she really likes it because of the guys she works with. "All of my colleagues are very friendly, my boss is easy to work with, and I never have to deal with office politics," she notes.
The World Bank named Singapore as the easiest place in the world to do business and Gin is one of the locals who make that possible. She understands four languages, including Singaporean Mandarin and other Chinese dialects, as well as English, which she learned in grade school. Since most of Sigma Design Singapore's clients are Chinese, Gin's language abilities are essential to its success.
When she's not at SIGMADESIGN, Gin enjoys Zumba® and Pilates classes. Weekends are often full of trekking, cycling, and occasionally diving and indoor sports(rock climbing). Her travels have taken her to China, England, Taiwan, Indonesia, Thailand, South Korea, Malaysia, and Germany, where she says she'd like to spend more time.
Gin worked for SIGMADESIGN as an office administrator for 2.5 years, then was promoted to the position of Office Manager. Congratulations, Gin!